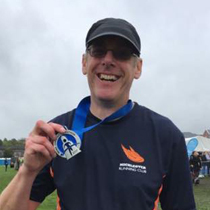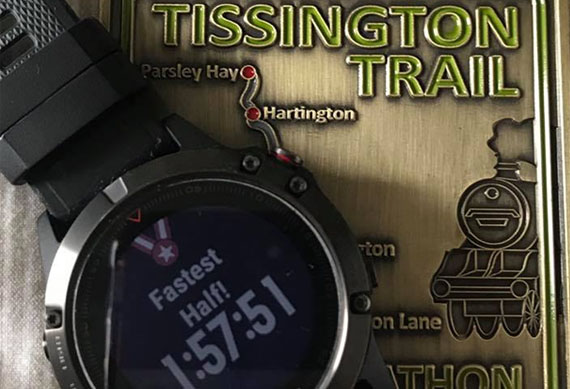 Tissington Half Marathon
Race Report
Having set myself the goal of breaking 2 hours for a half marathon before my 50th birthday and with time running out the search was on for a suitable race.
There were a few options but most were either too far away or too hilly, then I remembered Tissington!
I'd run Tissington before and knew it would be full but managed to get myself put on a waiting list.
4 weeks before the race and I get an email to say I'M IN! – eek! I'd better start training.
A couple of long runs over the next few weeks would have to do, the distance was never in question (this was to be half marathon no. 14) but would my legs want to carry me 13.1 miles at 9 minute mile pace.
So, Sunday 30th September 2018 comes round and this is the day – it's now or never.
08:45 and I'm dropped off at Ashbourne Leisure centre and climb aboard a coach to take me to the start (business class it wasn't, seating wasn't designed for anyone above 5 foot!).
09:20 we arrive at Parsley Hay, unfold my legs and disembark to perfect running conditions – overcast, about 10 degrees and a little moisture hanging in the air.
The usual warm up routine then followed, jogging up and down the trail a few times between visits to the toilet
I'm still not sure I can do this...
10:00 and were off, must stick to the plan…
The first mile was all about settling into a 9:00 minute mile pace and remembering to keep right where the High Peak trail splits off, job done there, oh look there's some pretty scenery too, mustn't forget that.
Now I've settled into a rhythm just need to keep it going for the next three miles where it's flattish
A slight wobble when I'm four miles in when my average pace had dropped just below my 2 hour target – hold it together man, it's all downhill from here – literally!
yep, the last 9 miles are all gently downhill so from then on I stop worrying about pace and just keep an eye on heart rate and power (yes I'm a geek), ooh look more pretty scenery again…
All's going to plan, average pace is coming down nicely, I'm starting to believe this is going to happen.
By mile 10 my legs are tiring but I now know I've got this in the bag and just need to hang on and not slow down.
Mile 13 arrives and just for fun there's a horrible steep downhill bit immediately followed by an equally steep uphill bit right where you don't need it, a proper leg killer, so with dying legs I throw myself down the last .1 of a mile to stagger over the line and collect my medal.
I've done it, I broke 2 hours, mission accomplished in 1:57:51.
If I'm honest I didn't take in much of my surroundings on this race as I was so focussed on the goal but it really is a lovely place to run and is a great race whether you want a leisurely scenic jog or are running it for time.
I'll be back again next year to take in the views – yeah right! Sub 1:55 you're mine