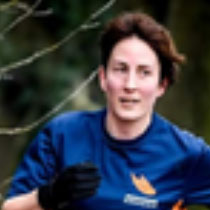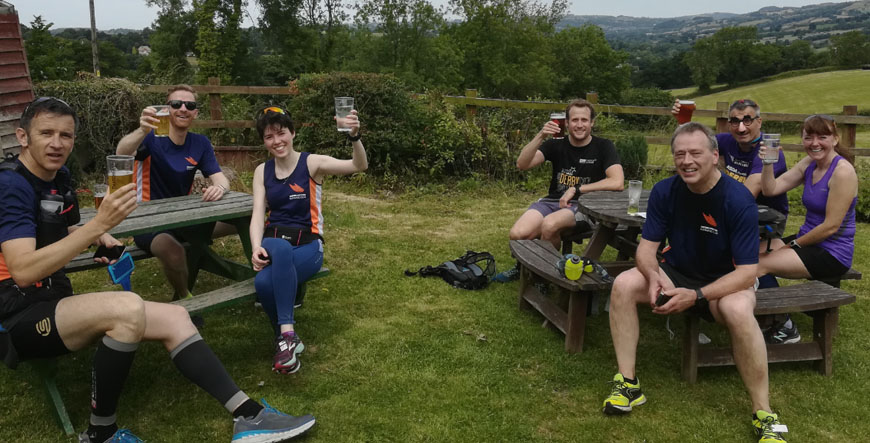 Happy Campers….
The weekend of 23rd/24th June 2018 brought with it lots of sunshine, but also the excitement of the first MRC camping trip to Blackbrook Lodge.
We chose a campsite in a beautiful part of Derbyshire, and its just 15 minutes away from Mickleover so it was perfect for people to join us for the day if they didn't want to camp.
Friday night saw the first of the intrepid runners to arrive; Adrian, the Chamberlain and Sheil families and Phil, who joined us on his bike.
For most of us this was the first experience of Adrian's amazing trailer AKA "Mary Poppins' carpet bag." Before our eyes emerged a huge fire pit and a whole circus skills workshop, complete with balancing board, juggling balls and clubs and not just one, but two, unicycles. After a fantastic demonstration of these circus skills we settled down to a relaxed evening around the fire pit with a few drinks, whilst watching the local owls and bats flying around.
Early Saturday morning brought with it a humiliating game of football for Adrian, John and myself when we took on the kids (with help from a boy from a neighbouring campervan).
We lost, badly. A short time later brought the arrival of more happy campers; Emma C, Paul D, Kellie, Al and Phil. Tents were set up, or in the case of Phil, campervan parked, and the day's activities began.
Steve and John previously did a recce on an approximately 8 mile route on footpaths to a pub at Hulland Ward, where we would rendezvous with a second group going on the 2 mile walk option, led by Rowan.
The long run was superb, taking us on a route through some beautiful countryside.
We made a steady pace over the undulating terrain, with long grass and uneven ground, and had built up quite a thirst by the time we reached Turnditch, almost 3 miles from the campsite.
A unanimous decision led to a short, but very steep, detour up to The Tiger pub for a welcome refreshment break.
It was a little difficult to get going again, but we eventually set off on part 2 of the run.
This was to take us over some lesser trodden paths, the grass was longer, the brambles more spiky and there were a few marshy areas underfoot - fantastic fun!
There was a slightly bizarre part where for a short time we were funnelled down a narrow path between high wooden fence (not sure what they are hiding).
We saw peacocks, donkeys and a somewhat frisky pony further along our route and finally left the footpaths at Biggin Lane, following the road for the rest of the way into Hulland Ward village.
Due to an amazing feat of planning (!) we met the walking group just yards from our well-earned lunch stop at the Nag's Head.
MRC took over the beer garden, where we met up with Nic D and Rob and Nic A and family.
We rehydrated and refuelled and then set off on the final part of the route, some running, some walking and others being carried (kids, not weary runners).
This was the reverse of the route that the walking group had taken earlier and took us the 2 miles back to the campsite past fields of drying hay, a concrete works and a farm where the friendly owner allowed the kids to feed the chickens and gave them freshly laid eggs.
Back at the campsite we were joined by Rob H, Kathryn and family and the evening's activities kicked off with the children's fun run.
All ran well on a scenic route around the pond, each receiving a medal and homemade chocolate lolly (courtesy of Nic A) for their efforts.
As the BBQ heated up a rematch of the adults vs kids football match took place, but this time the adult team had brought in their secret weapon, Emma C.
Thanks to her skills the adults were not humiliated this time, although there was a controversial moment where she took out the youngest member of the Humber family, would you have thought it - and this was only one of the yellow cards she was given!
As this was happening, Adrian and Al demonstrated their BBQ skills, cooking huge quantities of sausages and burgers over the fire pit.
The fire was then stoked up, with Adrian achieving his aim to have the biggest flames on the campsite. Later on Phil brought out his famous toffee vodka, it was a huge hit (sorry John, your dodgy pear schnapps wasn't quite so popular). There was more football, a lot of practice on the balance board (Steve C, you know who I mean), lots of fun playing the After Eight Mint game and a very chilled evening around the fire.
Sunday morning was glorious, bringing bright sunshine and a very hot day.
Following a leisurely and relaxed breakfast the tents were packed and a very enjoyable and very successful MRC camping weekend drew to a close.
Hopefully the first of many more in the future.
A last special thanks to those who put in the hard work to organise this event; Steve and Rowan for planning and leading the run and walk, John for arranging the campsite, John, Steve and Nic A for doing the BBQ shop and Adrian for being a superstar providing the fire pit and circus skills workshop.