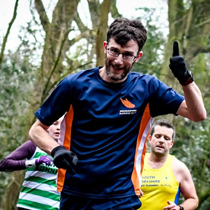 Chair Update
We are now well into what I now call May Madness. Why May Madness? Well I for one will be competing in 4 events in May over a variety of distances that will surely test knees.
Last weekend saw many of Mickleover Running Club take part in the Great Northern 10k and Half Marathon races. Cheered on by the very vocal and enthusiastic MRC cheerleaders, pom-poms are on order, all of those who ran put in an amazing effort on what is a pretty challenging course with and there were few PBs thrown in for good measure. I for one defiantly found that I had an extra spring in my step from the massive support that the club provided as I went past to start my second lap of the half marathon.
With only 6 days rest from the exploits of the Great Northern, myself and many others from Mikcleover Running Club are getting our racing shoes on yet again to race the Sinfin 10k. This great event represents the first race in the Derby Run Series and the second race of the Mickleover Running Club race series. This race promises to be another great event with Mickleover running club fielding another great team and I suspect the cheering will be just as load.
The Sunday following the Sinfin 10k sees the Carsington 7+, and my third race in two weeks. This race around Carsington Reservoir is the second race in the Derby Run series. If you would like to take part and witness first hand my knees catastrophically failing 3 miles from home, there is still time to enter for this great event.
Assuming that my knees haven't exploded and taken out half the Carsington field, I shall then be endeavoring to run as hard as I can in the first race of the Derby 5k series. This series is held at Darley Park and takes place on the last Tuesday of May, June, July and August. If you are interested in taking part you can still enter this event, or enter on the day. You can find entry details for both the Carsington and Derby 5k series, as well as other events throughout the year, on the Mickleover Running Club website.