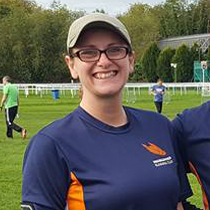 Thank you for visiting our website! My name is Tracey and I have the honour of being the current Chair of the club.
I've always loved sports at school however throughout college and university loved drinking more! Fast forward a few years and thanks to a busy and stressful job I wasn't looking after myself properly, had piled on the weight and was doing little or no exercise. I signed up for a 5K Race for Life which was followed a few years later by my first half marathon. With more stops than starts (children...life...work..) over the last eight years running has increasingly become a large part of my life; it gives me my 'me time' as well as a self confidence and fulfilment - and thankfully an understanding 'running widower' husband.
I would say to anyone who is nervous about joining a club, don't be. The physical benefits of running can be achieved on your own but the social and motivational benefits of running with a great group of people are immeasurable. Come down and give it ago and you will see for yourself!